BBC Talks with One of the national footballers that dumped
Eritrea Tyrant
11 Dec 2013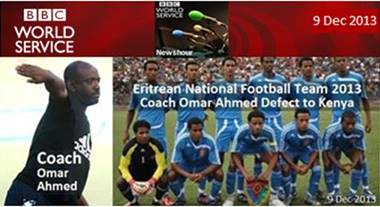 Coach And Players of Eritrean National
Football Team defect to Kenya again!
09 Dec 2013
Footballers dumping Eritrea tyrant, repeat
phenomenon! Coach following suit is novel!


Egypt Police kill 4, Wound 10 Eritrean
Refugees Near Sudan Border
05 Dec 2013
The Egyptian Police have again killed 4 and
severely wouonded 10 Eritrean Refugees close to
the border with the Sudan.


3 Dec: Flashmob, Candle Light in memory
of Lampedusa Massacre of Eritreans
04 Dec 2013
COMITATO 3OTOBRE today staged flashmob and
candle light vigil in Memory of 3 October


A General Without Face, Eritrea Tyrant's
Defense Minister Efrem!
03 Dec 2013
Eyewitness Account


Recorded Live in Paltalk


France Donates €550,000 To Support Eritrea
Refugees In Ethiopia


29 November 2013
France donated €550,000 to help the local UNHCR
in its services to Eritrean refugees in Ethiopia.


Oct 3: Lampedusa Massacre Memorial Day Day 27 November 2013
Very promising Movement to establishe 3 Oct as
Memorial Day for Lampedusa massacre of 368
Eritreans


Eritrea Tyrant's Human Abuse Drives
Eritreans To Flee
26 November 2013
UN Human Right's Eritrea Rapporteur, Ms Sheila B.
Keetaruth, after her recent visit with Eritrean
refugees in Malta and Tunesia


Eritrea Tyrant's stealth and illegal entry Into Port Sudan
over land
24 November 2013


Voila! Eritrea Tyrant Pops Up in Sudan? 23rd or 24th Nov.?
24 November 2013


No Eritrea Tyrant, Al Bashir To Launch 7th Tourism Festival
Sunday
23 November 2013


Eritrean Lampedusa Survivors Let Move On To Other
Countries
22 November 2013


BAMBI for Italian Lampedusa Heroine, Eritrea tyrant still
breathing?
18 November 2013





























Fiscally Strapped, Eritrea Tyrant Grounds Eritrean Airlines!
15 November 2013


Lampedusa Massacre: Happy Eritrean Survivors Make it to
Rome
13 November 2013


3 Eritrean Officers dump Eritrea tyrant, defect to Saudi with
style again
12 November 2013


Saudi Should Crackdown on Flawd Laws, Not Migrants
9 November 2013


Italy: 366-Tree Memorial Park For Lampedusa Victims
Inaugurated
4 November 2013


3 Nov: Africa v. Eritrea tyrant on Lampedusa massacre
Mourning Day
1 November 2013


Graduation Ceremony For Eritrean Refugees In Adi
Haroush, ET
30 October 2013


Ethiopia: Eritrean Refugees Rally For Change In Living
Conditions
29 October 2013


Lampedusa: Yet Another 150 Eritrean Refugees Rescued
Today
24 October 2013


AU Declares 3 Nov Continental Day of Mourning for victims
of Lampedusa
22 October 2013


Agrigento Mayor: Eritrea Tyrant Culprit &Culpable For
Plight Of Eritrean Refugees
22 October 2013


Italy Holds State Funeral For Lampedusa Shipwreck
Victims
21 October 2013


Lampedusa: Eritrean victim found with baby still attached
to umbilical cord



10 October 2013